Bryant Fabric Sectional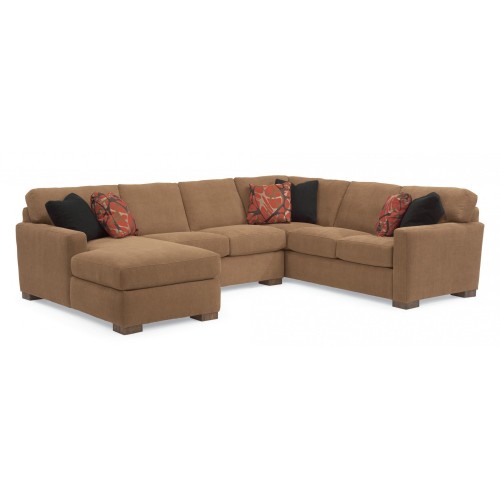 Call for Price: (936) 441-1959
Plush, deep seating and a wealth of cushioning.
Bryant offers modern, clean lines that are contrasted by its softly padded arms and boxed seat cushions. The arms and seat cushions are detailed with single-needle top stitching, while the bold block legs add a solid finish to this design. Multiple seating options make the Bryant sectional ideal for relaxing with company.
Bryant is available in the following pieces. See Fabric and Finish Options for available customization and design details.
Fabric Left-Arm-Facing Chair
Model 7399-17
33"W x 38"D x 35"H
Fabric Right-Arm-Facing Chair
Model 7399-18
33"W x 38"D x 35"H
Fabric Armless Chair
Model 7399-19
26"W x 38"D x 35"H
Fabric Full Wedge
Model 7399-23
48"W x 48"D x 35"H
Fabric Corner Chair
Model 7399-231
38"W x 38"D x 35"H
Fabric Left-Arm-Facing Chaise
Model 7399-25
34"W x 68"D x 35"H
Fabric Right-Arm-Facing Chaise
Model 7399-26
34"W x 68"D x 35"H
Fabric Left-Arm-Facing Loveseat
Model 7399-27
57"W x 38"D x 35"H
Fabric Right-Arm-Facing Loveseat
Model 7399-28
57"W x 38"D x 35"H
Fabric Armless Loveseat
Model 7399-29
50"W x 38"D x 35"H
Fabric Left-Arm-Facing Corner Sofa
Model 7399-33
95"W x 38"D x 35"H
Fabric Right-Arm-Facing Corner Sofa
Model 7399-34
95"W x 38"D x 35"H
Fabric Left-Arm-Facing Sofa
Model 7399-37
81"W x 38"D x 35"H
Fabric Right-Arm-Facing Sofa
Model 7399-38
81"W x 38"D x 35"H